Industrial Asset Optimization Services
In today's dynamic business landscape, proper asset management is crucial for organizations seeking to make informed decisions at the right time. By harmonizing the collective expertise of individuals, streamlined processes, and cutting-edge technologies, a well-defined strategy paves the way for achieving sustainable success.
Today's businesses grapple with multiple challenges, including outdated infrastructure, a technology revolution, a retiring workforce, and increasing regulatory scrutiny. The primary objective of industrial asset optimization and management is to optimize equipment usage, maximize returns on asset investments, and minimize risks, exposure, and downtime. Additionally, it aims to enhance overall value and profitability.
A comprehensive asset management plan encompasses various facets, including design, inspection, maintenance, operational excellence, capital replacement, process optimization, and efficient asset data management. This balanced approach is designed to extend the lifecycle of equipment and infrastructure, ensuring long-term viability and success.
If your organization is facing these challenges, our asset management solutions can help you achieve your goals effectively.
RMG's experts have deep industry knowledge in refining, mining, utilities, and manufacturing providing Asset Management solutions clients need to minimize their risk while maximizing their profits.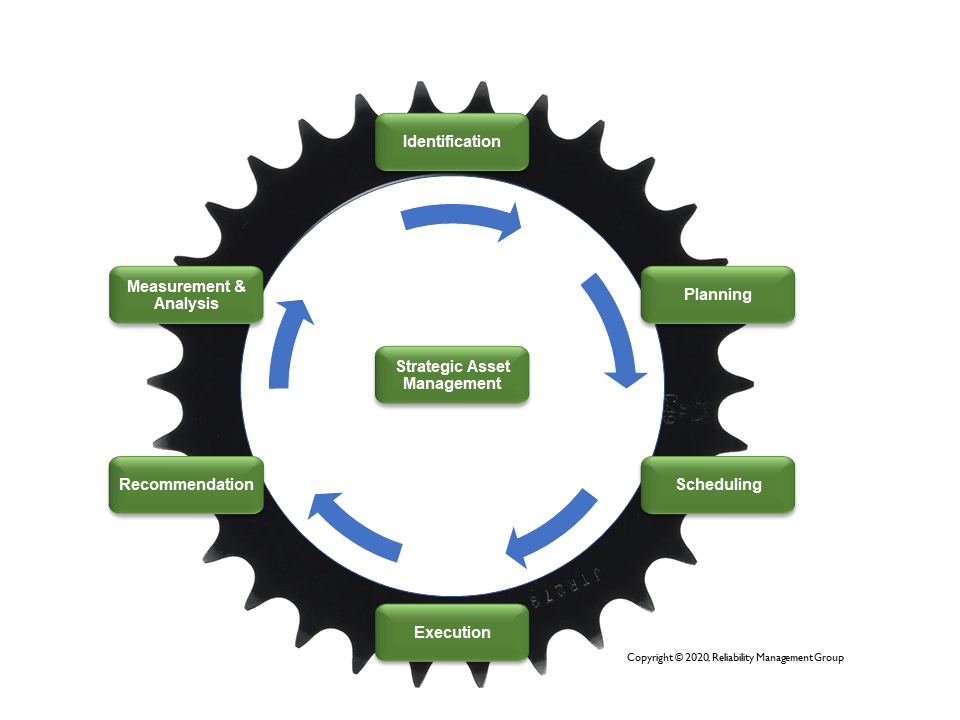 Identification
Regulatory/Statory
Asset Operational & Production
Department Roles & Responsibilities
Asset Register & Data Management
Budget Plans & Constraints
Organizational Performance
Planning
Asset Strategy Plans
Asset Audit Results
Life-cycle Planning
Budget / Capital Investment
Emergency / Contingency
Outsourcing / Contractor
Decommission / Disposal
Plans Review / updates
Training Planning
Scheduling
Improvement Initiative
Assignments
Audit Schedules
Outage / Project Scheduling
Production / Services Scheduling
Training Schedules
Outsource / Contractor Scheduling
Analysis Activities
Execution
Work Schedules:

Maintenance
Operations
Engineering / Projects
Supply Chain

Progress Tracking & Updates
Management of Change
Information Management
Asset Monitoring
Financial Monitoring
Metrics / Reporting
Recommendations
Asset Performance Data & Condition
Financial Data Integration
Asset / Work Histories
Asset Cost / Life Cycle
Incident Documents
Asset Register Updates
Formal Change Procedure (Standards, Procurement, Equipment, SOP, etc.)
Ops / Maint. / Engineering Work Processes
Work Requirements / Procedures

Contracts
Inventory
Skill Requirements
Main Plans
Ops Procedures
Analysis & Measurement
Improvement Tracking / Value Analysis / Directives
Asset Performance & Conditions Analysis
Risk Analysis
Reliability Analysis (FMEA, Critically, etc. )
Incident Investigation / Directives
Workforce Competency / Skills
Asset Management Audits
Asset Optimization